Tskaltubo (Georgian: წყალტუბო) was not part of our plan in Georgia but we decided to include this unique historical site within our journey after hearing of it during our trekking in Svaneti. It's really worth a visit!
Tskaltubo is a spa resort in west-central Georgia, famous for its mineral spring. In 1920 the territory of Tskaltubo became state property and it acquired the function of balneology resort. The building of the resort started in 1926. In 1931, a decree by the government of Georgian Soviet Republic designed Tskaltubo as a spa resort and balneology center.
In 1953, during the Soviet era, Tskaltubo became an important spa-resort. At different times, there were built 19 sanatoriums and pensions, nine baths, and a resort park. It used to attract around 125,000 visitors a year; Stalin himself used to bath in Bathhouse 9 – he was originally from Gori, a town not far from Tskaltubo.
Currently, the spa receives only around 700 visitors a year, and since 1993 many of the sanatorium complexes have been devoted to housing some 9000 refugees, primarily women and children, displaced from their homes by ethnic conflict in Abkhazia.
We have been part of those 700 annual visitors, indeed! We didn't use the spa as it was quite out of budget for us, but we went for a good massage in one of the few renovated buildings, which are actually very luxurious.
However, our main aim was to see the abandoned buildings spread around the park and the city. Unfortunately, few of them were not accessible because they have been acquired by private owners (one of them is Hotel Iveria). On the other hand, we walked in Bathhouse 8 (roundy and fascinating), Hotel Savane (on one of them main road, just opposite the park), Bathhouse 5 (which is not pointed out on maps.me but it is in the park in front of Hotel Savane), and another building which is not named but you can easily find it walking along the little canal in the park while heading towards Hotel Savane (expecting it on your right side). It may sound hard, but you should just wave around in the huge park and you'll find them. There are other buildings out of the main park that, as said, are now occupied houses; we walked in front of them very quietly, trying not to look like intruders.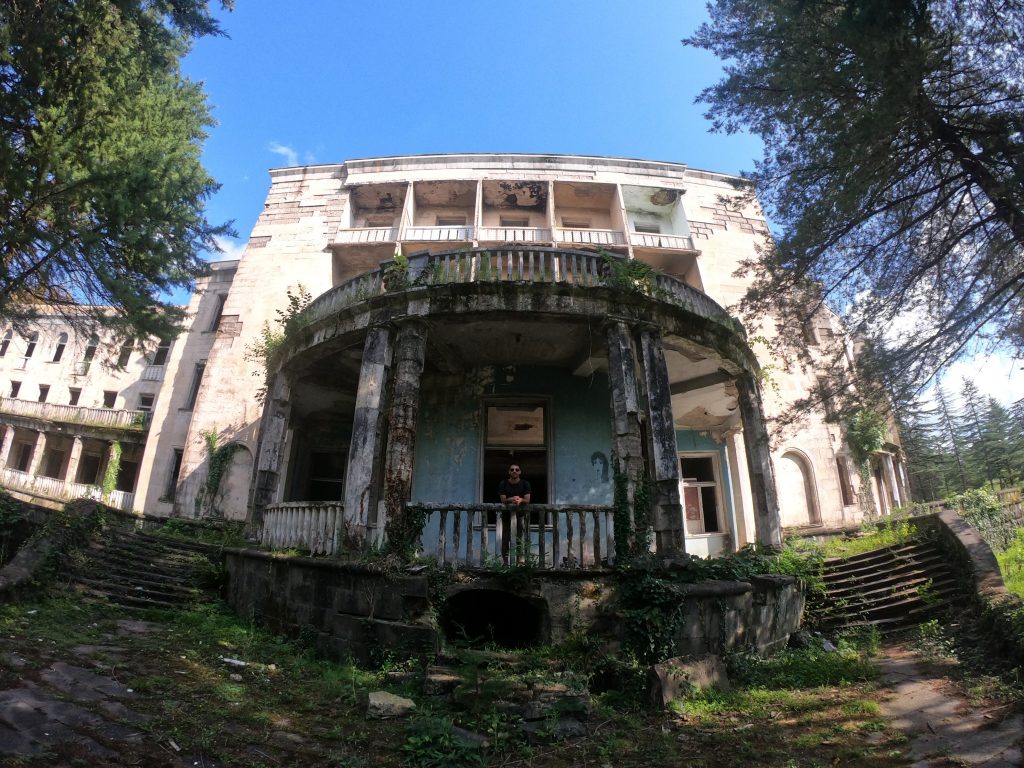 We really enjoyed our experience in Tskaltubo also because of our guesthouse. We stayed at Nunu's Guesthouse and we felt truly at home! Nunu (the grandma) and her daughter are lovely and caring and her granddaughter is available on the phone to speak English to solve any issues. We spoke to her to arrange our dinner at the guesthouse and we ended up having a huge "cream tea" offered and dinner complete of all typical Georgian dishes!
There was also Jessica at the guesthouse, a lovely one-year-old dog. Although she barked at night, she was super nice and we were very sorry not see her when we left. She might have escaped from the main gate that had been left open by the other guests. We were heart-broken seeing Nunu pretending to be fine while being very worried instead.
After leaving the guesthouse, we walked to the main roundabout in order to catch a marshrutka (shared minibus) to go to Kutaisi and, then, Tbilisi. We waited for a few minutes and then (at 10 am) we saw a marshrutka coming towards us and Tbilisi written on it. We started waving and it stopped to let us in. It then went door by door to collect people (they might have reserved it before) and after about one hour we left to go straight to the capital. The journey went smoothly and after about 5 hours we arrived at Didube bus station (metro station is also there, heading towards the city centre); we paid our fair 12 lari each, said goodbye to our travel mates, and headed to the city centre!